The Director-General of the Ghana-India Kofi Annan Centre of Excellence in ICT (GI-KACE), Dr Collins Yeboah-Afari, has urged Ghanaian women to largely take part in the re/Start program to bridge the gender gap in the ICT space.
Speaking at the launch of the re/Start initiative on Tuesday, November 14, 2023, at the GI-KACE auditorium, Dr. Yeboah-Afari stated that the call for more women to participate in the re/Start initiative was born out of the fact that globally, the female share in STEM and ICT occupations is lower than in all non-STEM and ICT occupations.
"Women are underrepresented in ICT and STEM at all levels of education. The gender gap in ICT and STEM is even wider for black women, and this is not different in Africa and specifically Ghana. Here at GI-KACE, we are firm advocates of getting more women to be trained in ICT and STEM fields to bridge the gender gap because there is a global need to encourage more women to pursue these careers," he disclosed.
RESTART is a digital skills programme, collaborated between Smart Africa Digital Academy (SADA) and the Ministry of Communications and Digitalisation (MoCD) with the support of the World Bank, the Ghana-India Kofi Annan Centre of Excellence in ICT (GI-KACE), to run a series of training ICT-related courses for Accra, Sunyani, Kumasi and Bolgatanga.
Dr. Yeboah-Afari also called on all persons with disabilities (PWDs) to take advantage of this opportunity to get trained in Digital Skills for free.
"It is my hope that we will have more of our youth (especially women) and persons with disabilities (PWDs) expressing interest and taking the bold step to sign up for this course," he added.
He noted that re/Start initiative will train 10,000 people, with the first phase focusing on 1,550 people in Information Technology Infrastructure Library (ITIL), Data Analytics – Power Business Intelligence (BI), Data Analytics using Python, Data Science, Cybersecurity Operations, Microsoft Artificial Intelligence (AI) and Amazon Web Services – Certified Cloud Practitioner Certification (AWS CCP).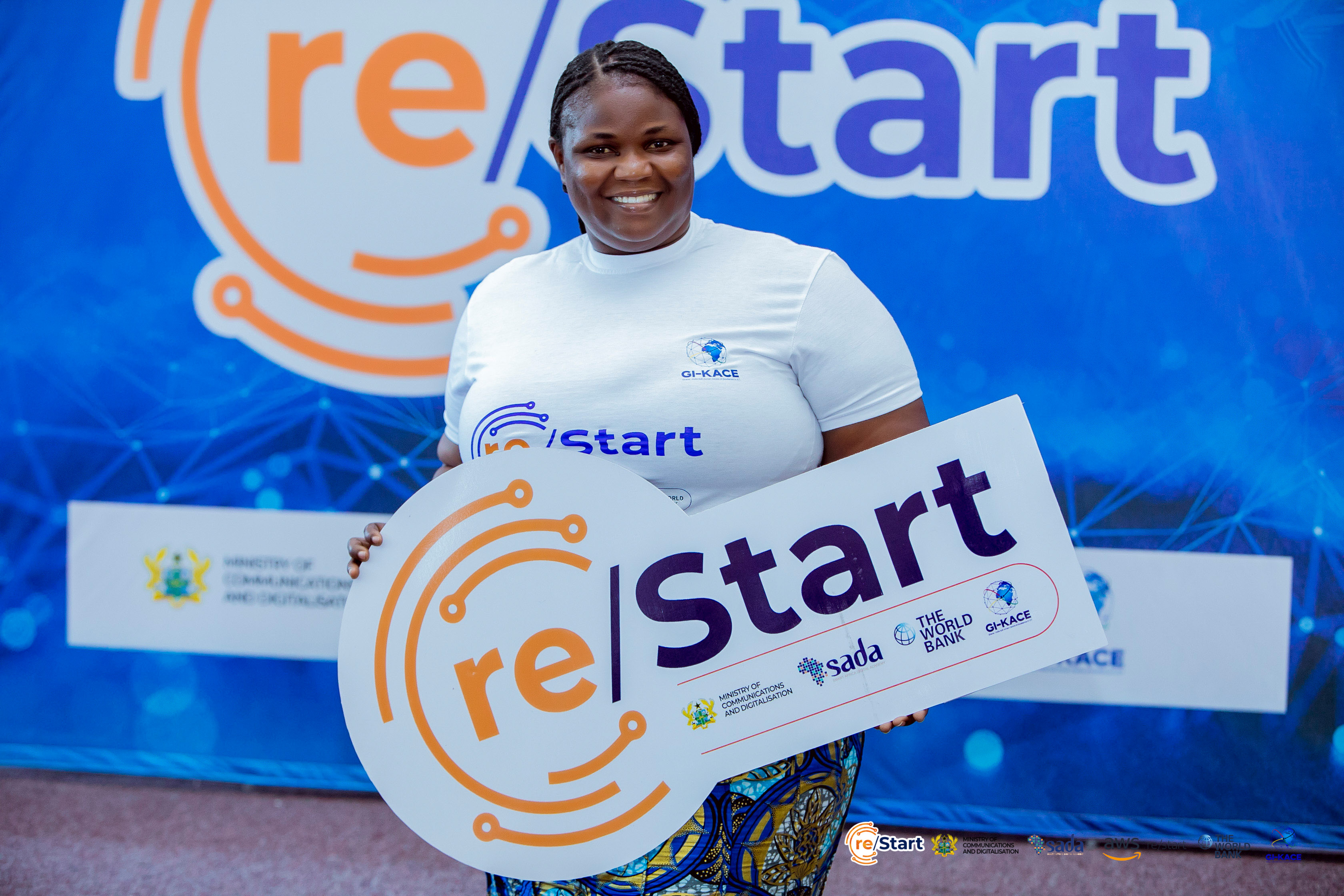 The chairman of the event Dr Edward Kwapong, who is currently the President of the Chartered Institute of HR Management (CIHRM) and the former CEO of Fair Wages and Salary Commision disclosed that, in today's rapidly evolving landscape, digital skills have become indispensable for a thriving workforce.
"As the president of the Chartered Institute of HR Management (Ghana), I am delighted that re/Start is a significant step towards empowering individuals with the tools they need to excel in an increasingly digital world…The ability to navigate and leverage digital technologies is not just a necessity; it is the cornerstone of innovation, productivity, and professional growth. Our commitment to providing accessible digital skills training underscores the importance we place on equipping our workforce with the capabilities to meet the challenges of tomorrow," Dr. Edward Kwapong Esq., said.
Minister for Communications and Digitalisation, Ursula Owusu-Ekuful in her keynote address said the introduction of the RESTART program is timely. RESTART is a beacon of hope and opportunity. It is a platform that will provide quality education and knowledge on emerging technologies, data use, and digital policies.
It is a vehicle for empowerment, a pathway to bridge the digital divide, and a force that will propel our youth towards a brighter and more prosperous future.
Speaking on behalf of the Minister, the Chief Director of the Ministry of Communications and Digitalisation, Alex Yaw Arphul advised future participants of the program to be punctual and dedicated to the studies.
Adding that "punctuality is a virtue that is often underestimated. Time is a precious resource, and by being punctual, you not only show respect for your instructors and fellow learners but also set the foundation for your success.
Arriving on time for classes, meetings, and assignments is the first step towards excellence. It allows you to make the most of the knowledge and guidance offered to you."
The "re/START" initiative would focus on youth, unemployed or underemployed individuals, persons with disabilities (PWDs), and furlough workers, with or without a technology background; by providing the necessary skills that would lead to career paths in emerging technologies.
The re/Start initiative implemented by GI-KACE, is in line with the Government of Ghana's agenda to equip the working force with 21st-century skills to create businesses as well as source for jobs in emerging technologies.