As the nation embarks on a tree-planting exercise, the management and staff of The Ghana-India Kofi Annan Centre of Excellence in ICT (GI-KACE) on Friday, June 9, 2023, commemorated this year's Green Ghana Day Celebration.
This year's edition of the Green Ghana Day exercise is being marked on the theme: "Our Forest, Our Health" with a target to plant at least 10 million tree seedlings nationwide.
Speaking on behalf of the Director-General of GI-KACE, Mr Stephen Baffoe, Director of Finance and Administrator at the Centre stated that the staff of GI-KACE need to take care of the environment and develop a conscious effort to grow trees where ever they find themselves.
READ ALSO: STEM education will produce a generation of thinkers and Innovators – Dr Collins Yeboah-Afari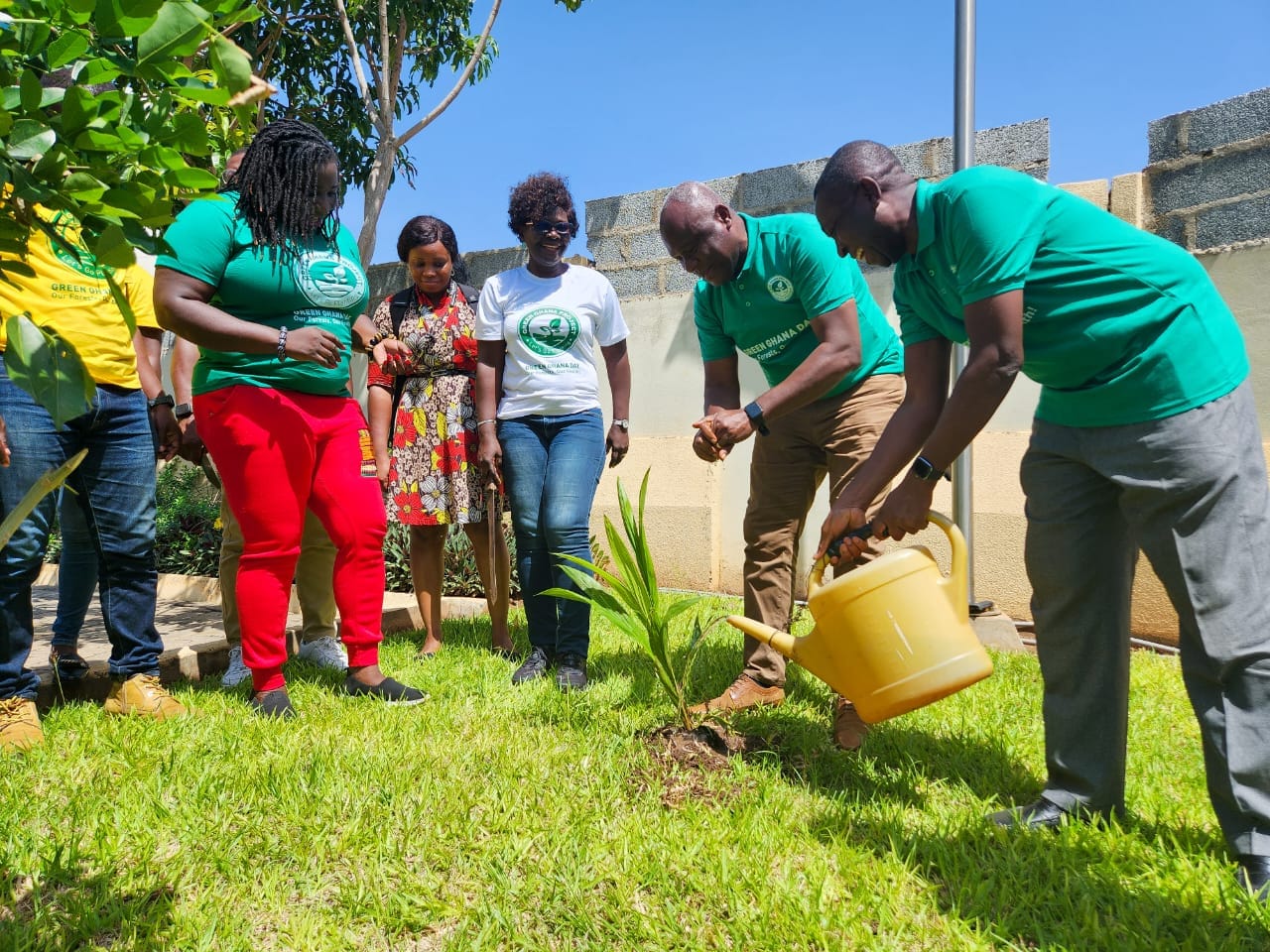 He disclosed that trees that were planted 2 years ago and last year had been well cared for and are growing nicely at GI-KACE.
"Where ever you are, you need to take care of the environment, we must begin to develop a garden consciousness as individuals in our homes, churches, mosques or where ever we find ourselves. We must try to take care of the environment by cultivating trees and also taking care of them. I will want to say that this is not a tree-planting exercise, it is a tree-growing exercise. If it is just planting, we plant and leave it but if we want to grow with them, we need to care for them. I am employing everyone as members of this GI-KACE community, let us be champions of this cause wherever we are," Mr Baffoe stated.
He also urged staff to reduce the paving and tiling in the premises of their homes to allow running water to sink into the earth and avoid causing floods.
READ ALSO: GI-KACE Pledges to Continue Supporting Girls in ICT Program
"I think we are stoning our environment too much with pavements and tiles. I think that it is one of the reasons why we see flooding all around these days because we are not allowing the running water to sink into the earth. Let us all begin to think about what we can do to protect our environment. Remember that when the last tree dies, the last man dies," he added.
After his brief address, Mr Baffoe together with the Director of Corporate Affairs and Media Relations, Kobi Hemaa Osisisadan-Bekoe and Director of Studies, Dr. Yaw Okraku-Yirenkyi, planted several trees around GI-KACE with the pledge to continue planting trees in their communities and homes.
READ ALSO: Support Government on Standardization and Regulation – Dr Collins Yeboah-Afari
The nationwide exercise is part of an aggressive afforestation and reforestation agenda to restore degraded forest landscapes and to contribute to global efforts to fight climate change.